Decoding the UK Number Plate System: How It Works
Why We Have Vehicle Registration Numbers
Vehicle registration numbers serve as a vital means of identifying vehicles. These registration numbers are owned by the Secretary of State and are assigned during the vehicle registration and taxation process. It's important to note that registration numbers can be withdrawn. The assigned registration number is linked to the vehicle itself rather than its registered keeper. This association remains intact until the vehicle is dismantled, destroyed, or permanently exported from the country. Alternatively, the registered keeper can transfer it to another vehicle or retain it for future use. See documents you need to protect.
Entitlement to a Vehicle Registration Number
The registered keeper of a vehicle is entitled to display the registration number, but this entitlement is limited. When a vehicle changes ownership, the entitlement to the vehicle's registration number typically stays with the vehicle unless the registered keeper takes steps to transfer or retain the registration number before parting with the vehicle. Detailed information on how to transfer, retain, or purchase the right to display a vehicle registration number can be found at www.gov.uk/personalised-vehicle-registration-numbers. Check vehicles mot history.
Format of Vehicle Registration Numbers
The current format for vehicle registration numbers was implemented on September 1, 2001, for all newly registered vehicles. This format consists of two letters, two numbers (indicating the vehicle's age), a space, and three additional letters. The first two letters serve as the DVLA memory tag, the subsequent two numbers denote the vehicle's age, and the final three letters are random.
For instance, BD may represent Birmingham, 51 signifies September 2001, and SMR comprises random letters. The age identifier changes biannually, specifically in March and September. It's important to note that we cannot guarantee the issuance of any specific DVLA memory tag, including in cases of replacement registration numbers. A list of DVLA memory tags and age identifiers can be found on pages 5 and 6.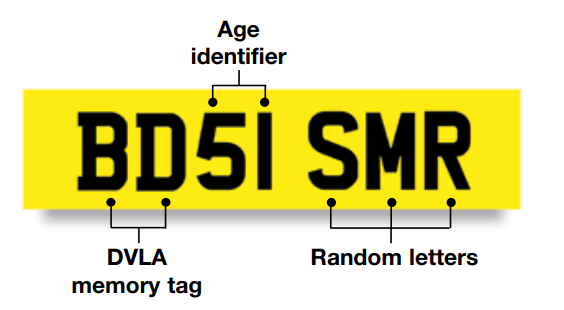 Displaying Vehicle Registration Numbers
Vehicle registration numbers must adhere to the guidelines outlined in the Road Vehicles (Display of Registration Marks) Regulations. These regulations dictate the design, manufacturing, and display standards for vehicle registration number plates. See car clocking issues.
Modifying, rearranging, or using numbers and letters to create names or words on a number plate, or in a manner that obstructs the registration number's readability, is an offense. For instance, altering letters or numbers using fixing bolts is prohibited. Violators of these regulations may face fines of up to £1000. In certain cases, the registration number may be permanently revoked.
If you've misrepresented a vehicle registration number that you acquired or purchased the rights to under the Sale of Registration Marks Regulations, and that registration number is permanently withdrawn, you will not receive a refund for any payments made or any associated costs.
It's important to emphasize that you cannot use a registration number to falsely represent your vehicle as younger than its actual age.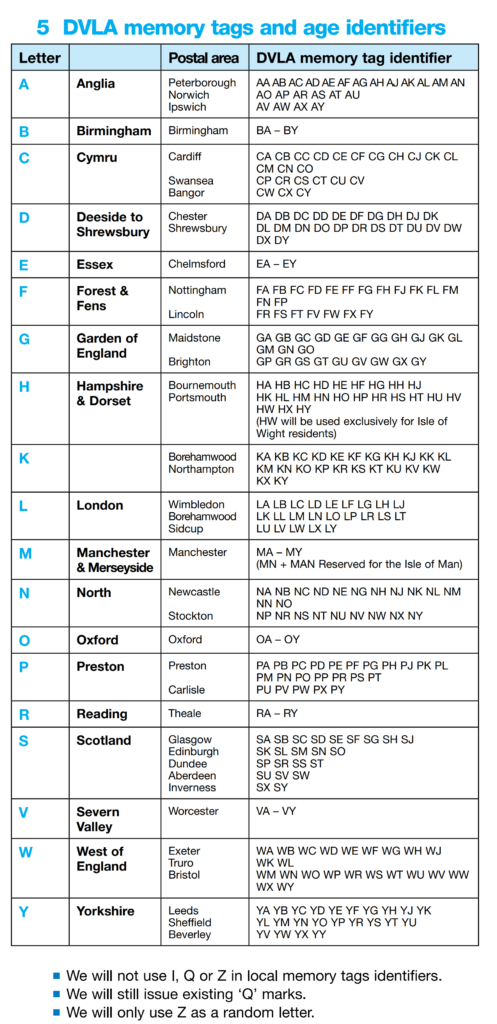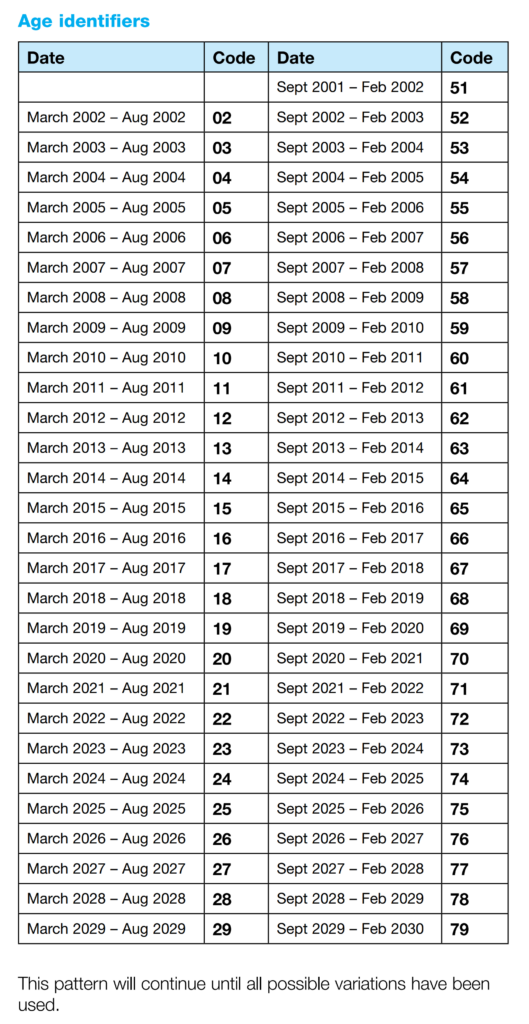 Acquiring Your Number Plate
To obtain a number plate for your vehicle, you'll need to visit a Registered Number Plate Supplier (RNPS). Discover the nearest RNPS by visiting www.gov.uk/displaying-number-plates. When you go, you must provide specific documents from the lists below. These documents are crucial for the RNPS to confirm your name, address, and entitlement to the registration number. Please be aware that only original documents are accepted; copies will not suffice.
Documents to Establish Entitlement to the Registration Number:
Vehicle Registration Certificate (V5C)
New keeper's details section (V5C/2) of the V5C
Certificate of Entitlement (V750)
Retention Document (V778)
Reminder for vehicle tax or Statutory Off-Road Notification (SORN) (V11) or (V11(NI))
Temporary Registration Certificate (V379)
Number Plate Authorisation Certificate (V948) with an official DVLA stamp
A letter of authorization from a fleet operator, lease company, or hire company (the letter must reference the document reference number from the V5C, not the vehicle identification number.)
Documents to Confirm Your Name and Address:
A driving license, with or without a photo, issued within or outside the United Kingdom
An electricity, gas, water, or landline phone bill, council tax bill, or Northern Ireland rates bill issued in the last six months
A bank or building society statement issued within the last six months
A national identity card issued by the government of a state or territory other than the United Kingdom.
Documents to Confirm Your Name Only:
A passport, issued within or outside the United Kingdom
A debit card or credit card issued by a bank or building society
A police warrant card
An armed forces identity card.
British Standard for Number Plates
The British Standard specifies key characteristics of number plates, including visibility, strength, and reflectivity. To meet the British Standard, each number plate must display the following information in a permanent and legible manner:
The British Standard number (currently BS AU 145d)
The name, trademark, or another means of identifying the manufacturer or supplier
The name and postcode of the supplying outlet.
Theft-Resistant Number Plates
Efforts have been made in collaboration with number plate manufacturers and others to establish a unified standard for theft-resistant number plates. These specialized plates are designed to deter thieves from using stolen number plates and offer several advantages:
Reducing instances where innocent car owners receive motoring-related fines for actions they did not commit.
Mitigating the problem of criminals cloning (copying the identity of) vehicles and selling illegal vehicles to unsuspecting motorists.
Addressing the issue of 'drive-offs' at petrol stations (when individuals leave without paying for fuel).
What to Do If Your Number Plates Are Stolen
In the unfortunate event that your number plates are stolen, it is imperative to report the theft to the police immediately. This action enables law enforcement to trace and prosecute the culprits, curbing this illegal activity.
Number Plate Design Specifications
Vehicles manufactured after January 1, 1973, must display number plates adhering to the following specifications:
Constructed from reflective material
Featuring a white background at the front of the vehicle and a yellow background at the rear of the vehicle
Displaying black letters and numbers.
As of 1st September 2001, new regulations were implemented to establish a standardized font (lettering style) for number plates, significantly enhancing readability. This change brought an end to the use of italics and other complex lettering styles that posed difficulties for reading. Below is an example of the standardized font.
For vehicles equipped with new or replacement number plates after 1st September 2001, registration numbers can no longer span over three lines (unless the vehicle was initially registered before 1st January 1973). Additionally, number plates purchased since 1st September 2001 must adhere to the following standards:
Characters must be 79mm tall.
Characters (except the number 1 or letter I) must be 50mm wide.
The character stroke (thickness of the black print) must be 14mm.
The space between characters must be 11mm.
The space between the age identifier and the random letters must be 33mm.
Margins at the top, bottom, and sides of the plate must be 11mm.
Vertical space between the age identifier and the random numbers must be 19mm.
Motorcycles and Tricycles
Different rules apply to motorcycles and tricycles:
Motorcycles registered after 1st September 2001 must display a number plate at the rear of the vehicle only.
Motorcycles registered prior to 1st September 2001 may display a number plate at the front but are not obligated to.
Characters on the number plate of motorcycles registered on or after 1st January 1973 must be arranged over two lines.
For tricycles constructed from four-wheeled bodies, such as saloon cars and quad bikes, they must adhere to the standard requirements on page 9. However, tricycles constructed from motorcycles must follow the rules for motorcycles as detailed below:
Characters must be 64mm tall.
Characters (except the number 1 or letter I) must be 44mm wide.
The character stroke (thickness of the black print) must be 10mm.
The space between characters must be 10mm.
The space between the age identifier and the random letters must be 30mm.
Margins at the top, bottom, and sides of the plate must be at least 11mm.
Vertical space between the age identifier and the random numbers must be 13mm.
Number Plates Installed Before 1st September 2001
Number plates fitted before 1st September 2001 must meet specific size requirements, as outlined below:
Group 1:
Character height: 89mm
Character width (except the number 1 or letter I): 64mm
Character stroke: 16mm
Space between characters: 13mm
Space between the age identifier and random numbers: 38mm
Side margins (minimum): 13mm
Top and bottom margins (minimum): 13mm
Vertical space between the age identifier and the random numbers: 19mm
Group 2 (Traditional number plates for vehicles made before 1st January 1973):
Character height: 79mm
Character width (except the number 1 or letter I): 57mm
Character stroke: 14mm
Space between characters: 11mm
Space between the age identifier and random numbers: 33mm
Side margins (minimum): 11mm
Top and bottom margins (minimum): 11mm
Vertical space between the age identifier and the random numbers: 19mm
The European Symbol on a Number Plate
If desired, you can display the European symbol and GB national identifier on the number plate. This eliminates the need for a separate GB sticker when traveling within the EU. The symbol must comply with EC Council Regulation 2411/98, which specifies:
Minimum height of at least 98mm.
Width between 40mm and 50mm.
Reflective blue background with 12 reflective yellow stars at the top.
Reflective white or yellow 'GB' letters.
National Flags on Number Plates
You have the option to display a GB national flag with the letters 'GB' on the far left of the number plate. The flags available for selection are:
The Union Jack
St George's Cross
The Scottish Saltire
The Red Dragon of Wales
The eligible letters include:
Great Britain or GB
United Kingdom or UK
ENGLAND, England, ENG, or Eng
SCOTLAND, Scotland, SCO, or Sco
CYMRU, Cymru, CYM, or Cym
WALES or Wales
While number plates featuring these national flags and letters are legally acceptable for travel outside the United Kingdom, they may not be used for identification purposes. To meet international requirements when traveling abroad, the oval GB sticker must also be displayed (displaying the European symbol eliminates the need for this sticker when traveling within Europe).
Please note that displaying any other flag or symbol is prohibited, and these requirements are applicable solely to vehicles registered in England, Scotland, and Wales. For vehicles registered in Northern Ireland, only the European logo can be displayed. You may like topic how to buy a good used car.
What to Do If Your Vehicle Is 'Cloned'
If you suspect that your vehicle's registration number has been copied or cloned, you must take the following steps to prevent further victimization:
Contact the police immediately to initiate an investigation and potential prosecution of the culprit to deter illegal activity.
Return any fines or letters you have received to the issuing authority along with any evidence to support your case.
Write to DVLA at Swansea, SA99 1ZZ, providing the crime reference number provided by the police. This information will be documented for future reference.
In conclusion, the UK number plate system is not just a random combination of characters. It's a carefully structured system that reveals important information about a vehicle's age and origin. Whether you're driving on the roads or shopping for a used car, knowing how to decode these plates can provide valuable insights into the vehicles around you.