The Ultimate Free Used Car Checklist
Buying a used car is rarely a straightforward game, and knowing what you're buying and what to look out for can be all the difference between a great purchase and a big regret. Having a used car checklist to take with you when you do buy a car, however, can be a seriously effective way to make sure it's the best option. You can't do enough homework here, either.
To help give you a push in the right direction, the CarExamer vehicle inspection experts made a used car buying checklist of their own.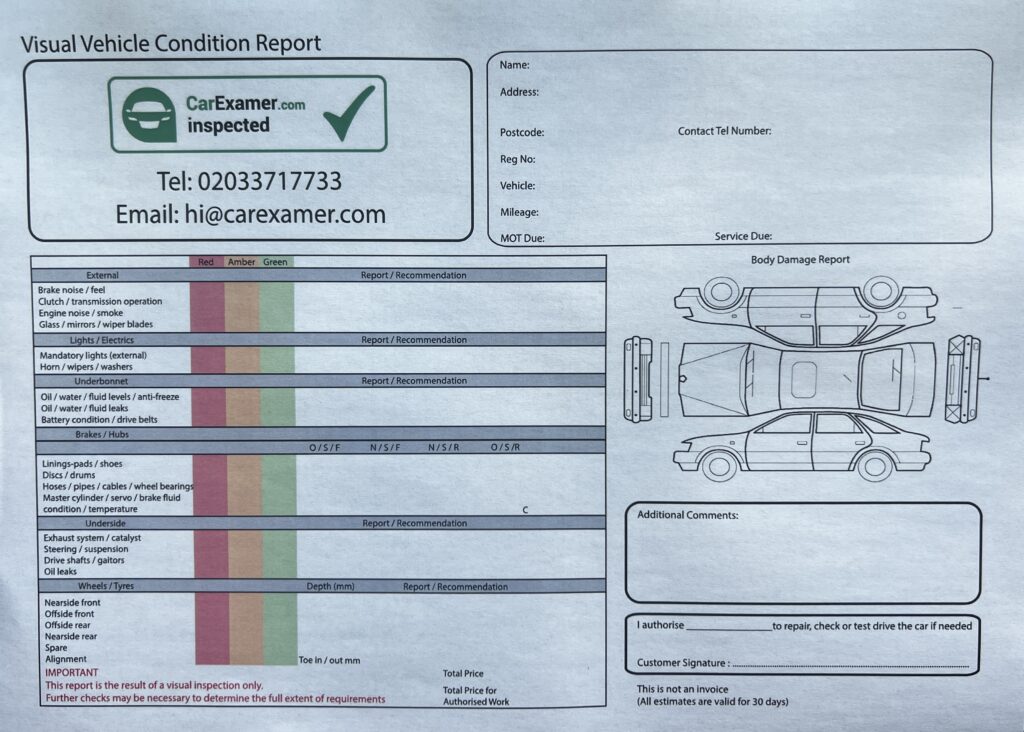 Let's take a look:
1. Tyres
Tyres can be a weak point that should be on any used car buying checklist. They're such an easy thing to have wear and tear. It's completely normal for tyres to wear down over time no matter how the car has been treated or what condition it's in. That becomes a problem, however, when it's you that has to pay for new tyres as soon as you buy the car. It can be a great point of negotiation.
2. Paintwork and Damage
The paintwork and structural integrity of a car is another big point you need to look out for. Scratches, nicks, marks, scuffs, dents, they all say a lot about a car and potentially how it's been treated. On top of that, they affect the value of the car too, so incorporate that into your decision.
3. Glass
Another aspect of damage that should be on your used car buying checklist is even the glass too. This is something that people might even think to be obvious, but it's a much more common issue than most people think. Glass is an easy place to get cracks and chips. That's another thing you'll need to pay for to put right and can even impair your driving if it's on the front or rear windscreens.
4. Battery Health and Ignition
There's nothing worse than not even being able to start the car. Always make sure you're testing the battery and ignition health of a used car you're checking out by trying to start it from cold. Do it yourself, and make sure the engine isn't warm before you get there, as that can be a sign of the seller having something that they don't want you to see. Even how many ticks before ignition is a good point to note.
5. Corrosion
Like scratches and dents in your paintwork on the outside of your car, corrosion has exactly the same impact too. The difference, however, is that this time, it can have massive implications on mechanical integrity, and it can cost you a write off in extreme cases. Take a look at anywhere you can for corrosion, wear and tear and rust. Check under the bonnet and under the car if you can.
6. Pedals
The pedals are another much more subtle part of things here, but they're actually one of the most significant factors that affect your driving. They should be on any car buying checklist, but even more so on used cars. You need to start the car and see things like the biting point of the clutch, the effectiveness of the brakes, and the responsiveness of the bakes.
7. Electrics & Bulbs
The electrical side of things is another game altogether, but you still need to add them to your checklist to make sure you're not getting stung. Make sure you take a look at all the lights on the vehicle, the dashboard lights, indicators, electric windows, and all in-car features too. These can range from deal-breakers to inconveniences, so give them though.
8. Mileage
One huge point that always needs mentioning no matter what you're looking for is the mileage that your vehicle has been through. Its usage has a massive impact in its current value and condition for the most part and depending on the age of the vehicle, it has a lot to offer you about how the car has been looked after. That's essential to know info.
9. Interior and Upholstery
Buying a used car isn't all about the outside of the car either. It's always a smart decision to take a look at the inside of the car too. Scratches and marks on the dashboard are one thing, but it's smart to take a look at the condition of the seats and flooring too. Don't be too thorough, as it can really take the value away from the car.
10. Bonus: Detailing
As a final point to check in person, a great way to tell if a used car has really been looked after is in the detailing. The really small things in the car, and how they have stood the test of time. Things like the stitching, the leather health, the seatbelts, the ceiling even. Really take a look at what's in there.
Testing a Used Car
Getting the most from your used car buying checklist isn't all just about what the car looks like, either. There's only so much that you can learn from a car just by looking at it, especially if you're not a professional, or you're inexperienced with cars in general. To take it to the next level, there are some questions that you need to ask yourself about the car and when you're driving it too. They're nothing out of the ordinary, but they are great questions to keep in mind.
11. Does it Start Correctly?
Is your car starting straight away? Think about how the car is ticking when you turn the key in the ignition and if it's struggling to get things going. It's never a good sign if it has trouble.
12. Does it Steer Well?
Steering is always going to be the most important part of driving, and when it comes to steering in used cars, a great thing to have on your checklist is to check it out. Make sure it's not too heavy, misaligned or even just uncomfortable. Even a perfectly good and working car can be a bad fit. Make sure it's something you can see yourself using.
13. Does it Stop or Brake?
Brakes are a lifesaver. They are vital to your safety and others when you're driving, and they're susceptible to a huge level of wear and tear just like your tyres. As they wear down, they need replacing. It takes years for most vehicles but that is not something you want to be caught out with if you're buying. It's not always a cheap job to replace brakes.
14. Does it Sound Healthy?
Lastly in your used car buying checklist, you should never forget about another useful tool in your arsenal, and that is your sense of hearing. You can tell a lot about a car's health from the sounds it makes. If there's anything sounding strange, unexplained or just plain wrong, don't be scared to take that on board and give it a miss. It could be nothing, but it could be a lot worse too.
A Note About Road Tests
All of this advice about road testing is essential to take on board, but in a lot of cases, you can't actually take it out for a drive yourself (unless the right insurance is provided). That's why companies like us are an essential go-to for a huge number of people. Road testing is included in our packages since we're completely insured for it on a business scale as well as personal, and we can push the cars to the limits professionally to dig deeper than a simple test drive could.
Used Car History Checklist
The third and final tactic in your used car buying checklist is to take a look behind the scenes, in addition to all of the things you see about it in person. Car checks and history checks, in particular, are vital to getting the full story about a vehicle before you buy it. It's impossible to know what a car has been through without it, and that is actually responsible for more than you think.
15. Documents
The documentation that comes alongside the car you are buying has a lot to offer you too. You need the V5 to change ownership for example (which costs to get replaced if you don't have it when you exchange the vehicle). The service history is great to have too and can really help you know you're making a safer decision.
16. Finance History
Checks about car finance are also essential to know that your car is actually legally paid off and not going to give you hassle in that respect. If a car is ex-finance or even only particularly paid off but then sold, even if you buy it outright, it could get taken from you. Get this checked if you can.
17. Criminal History
On the same level as finance causing you issues, a criminal history of your vehicle can do too. If the car you're buying has been used in a crime or even been stolen, there are records of it. The last thing you need is to have your car investigated or even confiscated if need be. This goes for cloned vehicles too.
18. MOT History
Lastly, we have the classic MOT check. This is the iconic way to check up on what's been going on as your car gets its MOT every year. That means there's a report on anything that has gone wrong with the car if it has missed any MOTs, if it has one now (and how long is left on it, as that's another bargaining chip), and what advisories are on there too. All of these are going to have a huge impact on the car while you're the owner, so head their information wisely.
Conclusion
Ultimately, there's only so much that you can do when you're buying a car for yourself, but all of the points in our used car checklist will give you a nudge in the right direction and help prevent you from buying something that could be a mistake. Every car is different as so is what it has to offer you. You can never really tell whether a car is good value for money until you've really put it through its paces, but these will help you no matter what.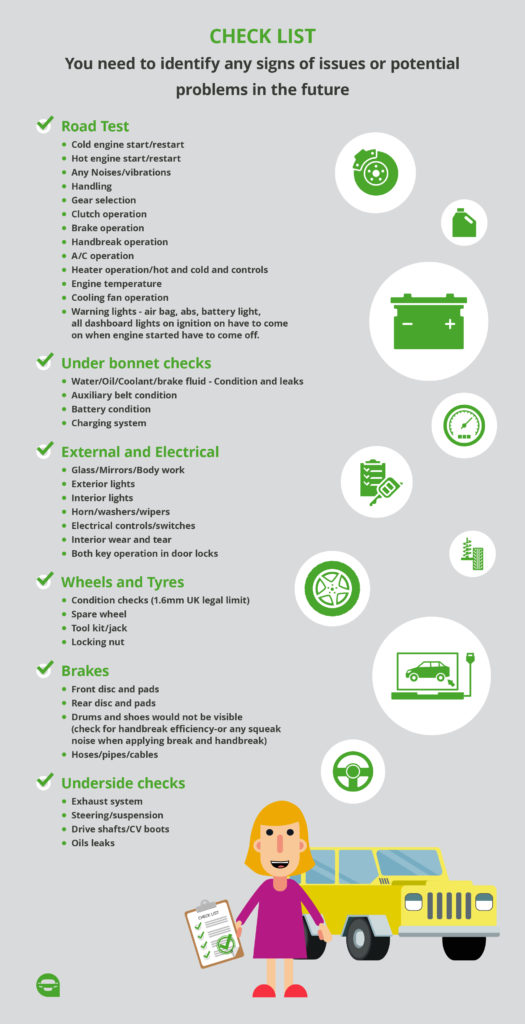 Need More Help?
If you're still on the fence about taking the plunge and you're worried about what you're getting yourself into, you can always speak to the expert inspectors too. At CarExamer, we have years of experience in used car industry, and inspecting cars is our speciality. No one knows more about vehicle inspections than we do, and we have a range of different services designed to help you find your perfect car without any nasty surprises, even without you being there with us. We inspect any age any mileage vehicle from top to bottom to get you the safety you need, and we even have a car souring service too to help find the car before you need to inspect it.
Whatever you need, we're here to help. Get in touch with us today and let us know what you're looking for.
Happy driving