A Guide to Cleaning Inside a Car
Taking care of a car isn't always an easy thing to do, and one of the first things that fall by the wayside is almost always cleaning the inside of a car. Interior cleaning for a car is one of the first forgotten things about any vehicle maintenance. It's something that only you see after all, but in reality, it's actually one of the most important to keep clean.
Almost all of us probably spend a little too much time in our cars. Whether it's going to work, doing the school run, going shopping, or even just for fun; we drive all the time. As a result, just like anywhere, that's just asking for mess and dirt. Sometimes it's more obvious than others, but there's always a great reason to take the plunge and give it a good scrub. Doing so, however, can be a little daunting.
To help you take the leap and make the most of your cleaning, we've put together an awesome guide to interior maintenance and how to clean inside a car. Let's take a look!
Step 1 – Empty Waste from the Car
First up, we need to get rid of the junk. Whether it's fast-food wrappers, water bottles, or other rubbish that's in there… it's time to go. Grab anything that doesn't belong there and either take it inside or to the bin. Either way, if it's doesn't live in your car, you need to take it out.
Cleaning around mess is never an easy thing to do and it's just asking for a bad job. Junk in your car is one of the easiest ways to stink out your car and actually make it feel much less clean than it actually is. It's an easy way to get the ball rolling here.
Step 2 – Take everything out
As well as getting rid of the rubbish that's in your car, interior car cleaning also needs you to remove even the essential that are in there. Too. We're talking car mats, seat covers, car accessories… you name it. Get them out.
This is one of the best ways again to make sure that you're not going to miss a spot, but more than that too. It also makes sure that you clean those too. It's easy to just go for the bigger things when you're cleaning inside your car, but you need to clean all the extras too, especially things like car mats.
Step 3 – Brush and Vacuum
Next up, we need to get the real cleaning underway. It's time to bring out the big guns here, and that's with the vacuum cleaner and ideally a brush too. Not just any old brush but get the best that you can for the job (and make sure that the vacuum has some good suction too!) See how to look after paintwork.
Getting both of these right is the most essential way to get all of the dust and dirt out of every nook and cranny that you possibly can. Make sure you pay attention to the obvious areas, but also the hidden pots of dirt. That's things like your seat grooves, under seats, parcel shelves and even your gear stick and handbrake too. Get the lot!
Step 4 – Wash/Wipe Everything
After you have vacuumed up all of the dust and dirt, we need to get the drier stuff too. This includes things like stains and drier more stubborn dirt right through to the micro-level too. Disinfecting wipes or a good cloth on the dashboard and wheel, for example, are essential to a good interior car cleaning. Your door handles, steering wheel, handbrake and even window buttons all get touched the most, and that means they're the biggest breeding grounds. Make sure they're sterilised.
This is where all of the germs and bacteria are most likely to be building up, as well as a huge amount of dust you may not even see. Don't forget about blowers here too, and these are just asking for dust and dirt to build up even in secret. You can never be too careful with germs and dust of any kind.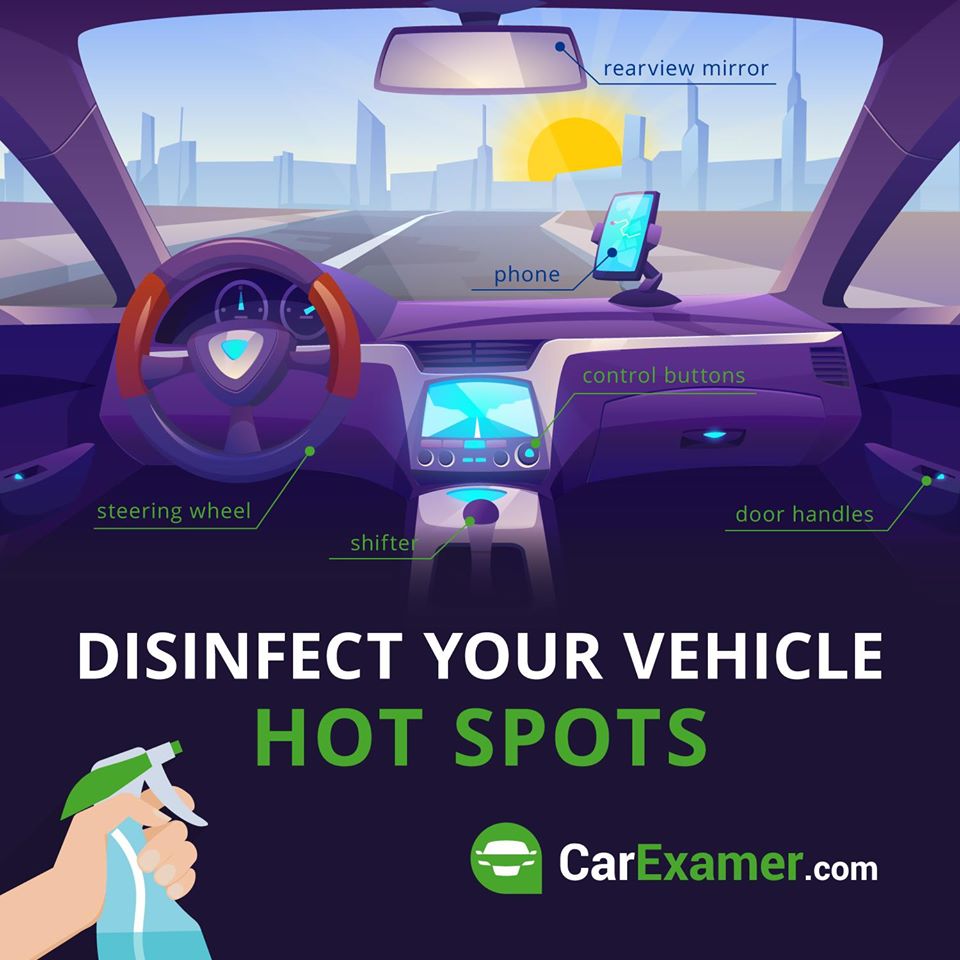 Step 5 – Clean the Windows
As well as doing all of the plastic, leather and carpets when you're cleaning inside a car you need to make sure that you're getting the glass too. Glass is one of the easiest places for more visible dirt to build up. That goes for germs too, since so much moisture and condensation build-up here and is often forgotten about. That makes a breeding ground for bacteria and water stains too.
The best thing to do here is to treat it like any other window. Get the correct glass cleaner for the job to make sure you're not left with droplets or streaks. After that, it's all just about getting the perfect shine.
Step 6 – Polish Leather
To finish up our interior car cleaning, cleaning the inside of your car is never a finished job without the finishing touches. That's where you need to be looking at your leather in particular, as well as any glossy materials and even displays.
Make sure you're using the right stuff for the job, whether it's more polish, leather treatments and moisturizer or even just another wipe. Whatever it is, pay special attention to the lot. The wheel and gearstick are special areas to watch as you touch these the most.
After that, you should be left with a gleaming example of a spotless car interior, ready for you to feel better and cleaner than ever. It's a great habit to get into on a weekly or even a monthly basis if you can, and it's another part of great car maintenance that can boost your resale value too. You'll be amazed at how much better it feels and how much it can actually benefit your health and hygiene too.
Happy driving!