A Guide to Buying a Car on AutoTrader
Buying a car on AutoTrader is something the majority of car buyers have looked into at some point or another. AutoTrader is one of the largest vehicle retailers in the UK. It has a wealth of different vehicles and sellers all offering youtube cars you want at a competitive price, and the level of choice and competition makes it an incredible resource. It even acts as a database of vehicle information, whether you choose to use it or not. Truly it really is a strong tool. Always start with mot history.
The problems that come into play when buying a car from AutoTrader however are the usual issues that come with buying a car online. Mainly, that's the fact that it's online. Buying anything over the internet can be daunting, but when it's something as big and as important as a car, it matters more than ever. That's where we come in.
The CarExamer team has looked at countless vehicles found on AutoTrader. Whether it's from a private seller or a dealer, we've seen it all. This is the general advice we'd give to anyone thinking about doing it. Check Gumtree, CarGuru, Ebay, Motors, Facebook marketplace, online buying guide.
1. Find Suitable Vehicles
As with any car buying journey, the first step is with finding a car. You need to have a serious think about what you want from your next vehicle. AutoTrader can be an overwhelming place if you go in unprepared, but at the same time, it's also a great place to see what's on the market. The really great thing about it though is the level of specificity you have available to you. You can add criteria in your search for distance, price, age, mileages, seats, transmission, make, model, doors, tax, emissions, fuel consumption… Pretty much anything you can think of to get your perfect combinations and use what matters to you the most.
Generally, the best thing to do is to set your criteria. That's if you don't have a car in mind already. Have a think about what you want from a car. Maybe you want something to fit the whole family, or something economical. Maybe you want a new car that you find fun to drive. Either way, there's something for everyone. Think about the price you can afford to pay for a new car, and how old you think it should be, or how many miles it should have on it. These are all big factors that affect the price and the reliability of a vehicle, after all. Ideally, have a favourite or order you'd like to use to check them out to make a decision. Book car inspection.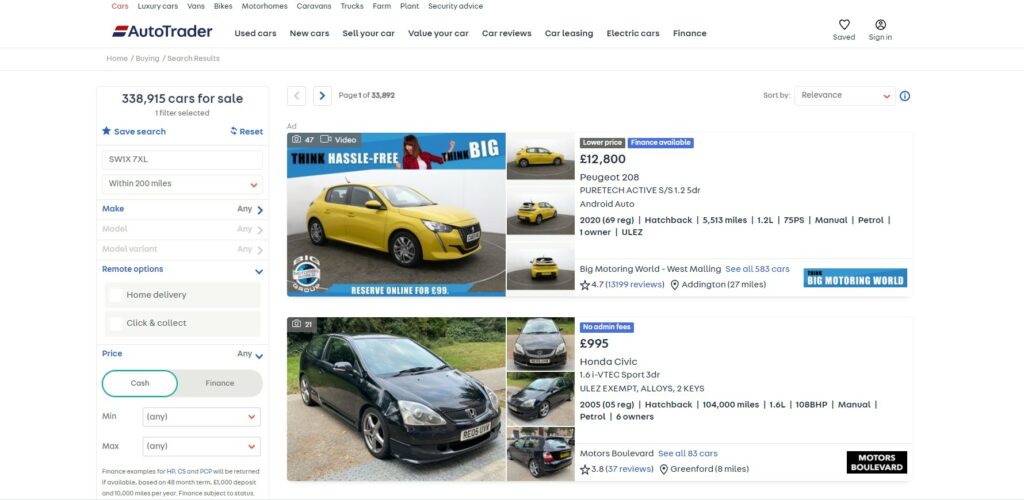 2. Check Out the Seller
Once you have all that done, simply pick a handful from the listings. With AutoTrader, you can pick them from sellers anywhere in the UK, or within your range to make sure they're easy to get to for you. Many dealers also have delivery, but it's still easier for viewings if they aren't too far.
Here, you should do your homework on the seller of the car. If it's a private seller, you're limited on what you can find out about on AutoTrader. They are listed as a private seller, without a name, and even their phone number is replaced with a number made by AutoTrader to protect them. The only thing you could do is to search google using image search and the picture of the vehicle to see if it is listed elsewhere, or copy and paste a sentence from the description into a search engine, as this will bring up other listings. Really, though, there's not much you can do other than have a conversation with the seller and find out about them this way.
If they are a dealer, the standard rules apply. Check out the business online, the reviews, any websites they have etc., TrustPilot, their Autotrader reviews… Check anything you can find to make sure they are someone worth speaking to. This can help you fine-tune the selection of cars you picked.
3. Arrange a Viewing
Once you're happy with the car and the dealer online, the next step when buying a car from AutoTrader is generally to arrange a viewing. Any seller should be happy for you to come and take a look at the car you're buying before you buy it. Deposits are generally not advised either, but it's a judgement call if you want them to hold the vehicle for you.
Arrange a viewing with the seller somewhere that is safe for you both and where you will be able to properly see the car. Ideally, take it out for a test drive and make sure it's all up to scratch and what you're happy to drive.
This is also a prime time for you to inspect the car and make sure everything is as it should be. Check that the car is as described, and then check the condition of it. Look for damage or wear and tear, and check the health of the important parts that you have access to. It's worth looking under the bonnet for the condition of the engine and to look for corrosion, rust or general damage. Paintwork and interior health can also affect the value of the car although they won't cause costly repairs like other areas will. You can also get a professional to do all of this for you, which is where services like carExamer come into play.
4. Check the Vehicle History
As well as checking out the car physically, it's good to do your homework before you part with your cash too. That's even more important when you're buying a car from AutoTrader. Not every seller is reliable or reputable after all, and anyone can use the service. This is another reason professionals like CarExamer offer fully comprehensive inspections on the physical vehicle and its history alike.
Some of the main areas to check here are things like the MOT history, to check the car is legal and if it has any hidden issues. The service history is always a great thing to have as it shows the car is looked after. Without it, this can devalue the car, and you can use that to your advantage too. Previous owners can show you that the car might be troublesome too. Any outstanding finance is also a deal breaker as you can be left without your car or your money if you get on the wrong end of this one.
5. Negotiate the Sale
After you have checked out the vehicle(s) and made your decision, the only thing left to really do is to negotiate a sale. Car sales aren't light work after all. If the seller is private, then you need to think about the process you'll use to buy the car. You can pay however you like, as AutoTrader doesn't host the sale for you. They make their money on sellers listing their cars.
Generally speaking, the best thing to do here is to go to the seller in person, and with a contract. Dealers will do this anyway, but for private sellers, bring your own to have something binding and protect yourself. Then, do a final check of the vehicle. Make sure that you pay however is safe and comfortable for you, and make sure the current owner is able to sign the car over to you before you hand over any money.
You could use an escrow or holding service as a 3rd party, but this costs more money.
All in all, buying a car on AutoTrader is much like anywhere else. It's an incredible tool to browse a huge selection of cars, but it is really just a tool to find cars. To vet and buy the cars, you're still very much on your own or at the hands of any professionals you use to manage the sale. Always make sure you protect yourself and your money when buying any car, and do all the research you can to make sure you're getting a fair and safe deal. Book car inspection.