The 9 Best & Worst Online Car Buying Sites in 2021
Buying a car from an online site is one of the most convenient ways to get on the road in the 21st century, but with such a high-value purchase for something that's going to be used so thoroughly, there are always ups and downs. You have the convenience that comes with shopping online, the availability of anywhere in the UK, and everything else it has to offer too, and that's great.
What isn't great, however, is when things don't go as planned. Online shopping as we all know too well can just as easily go badly as it can well, and that's why it's so important to look at the best online car buying sites in the automotive game at the moment, and what sets them apart from the crowd.
That's why Carexamer has produced this handy guide. We're looking at the customer experience for each of these highly used online car buying sites that could argue to be the best, taking into account the buying experience, returns, customer feedback, and their fees along the way.
Carcraft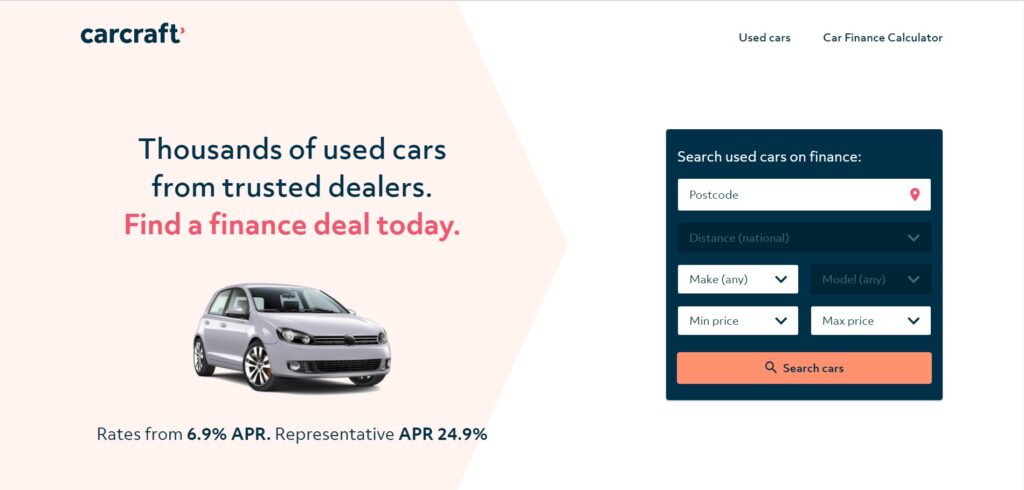 Carcraft are one of the older car retailers on the list that as of recent years have moved away from their physical presence and into a completely online car selling service. Despite this long standing reputation, however, their business model also changed too. They now work with independent sellers rather than selling their own vehicles, and as a result, their online reviews have taken a hit. Trustpilot sees them with a now average score of 2.2 / 5, showing some seriously negative feedback and a lack of responses from the business too.
Cargiant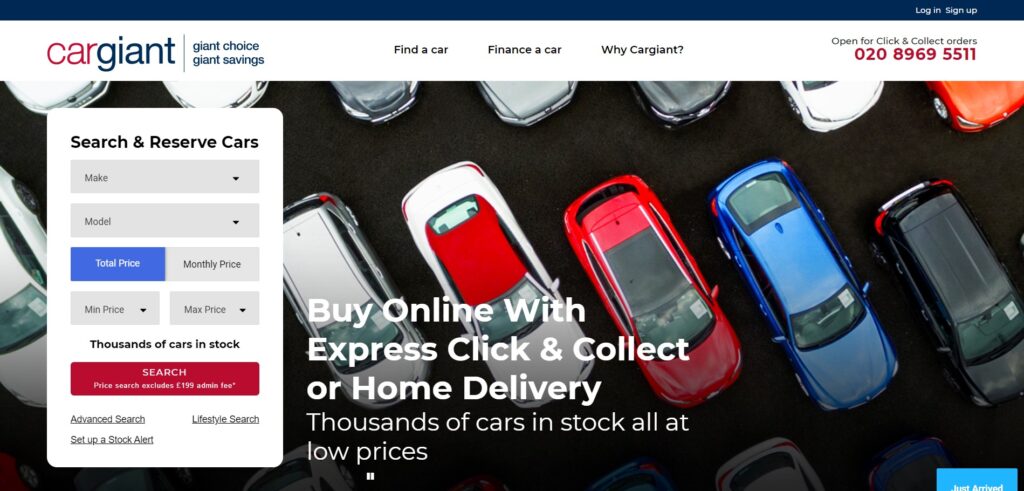 CarGiant is another physical car seller that has taken to the online car market, and even despite having the largest car showroom in the world, or so their website claims at least, they remain selling both on and offline. Because of the central London based location, however, unlike a lot of other online car selling services, they only offer free delivery within a 20 mile radius of the car lot. Further delivery is available, but will be undertaken by a 3rd party and for a fee. They do offer free collection too which is something that not all services can. They have a solid 4.7 rating on Trustpilot and welcome 3rd party vehicle inspections too, just for extra clarity.
Swsupermarket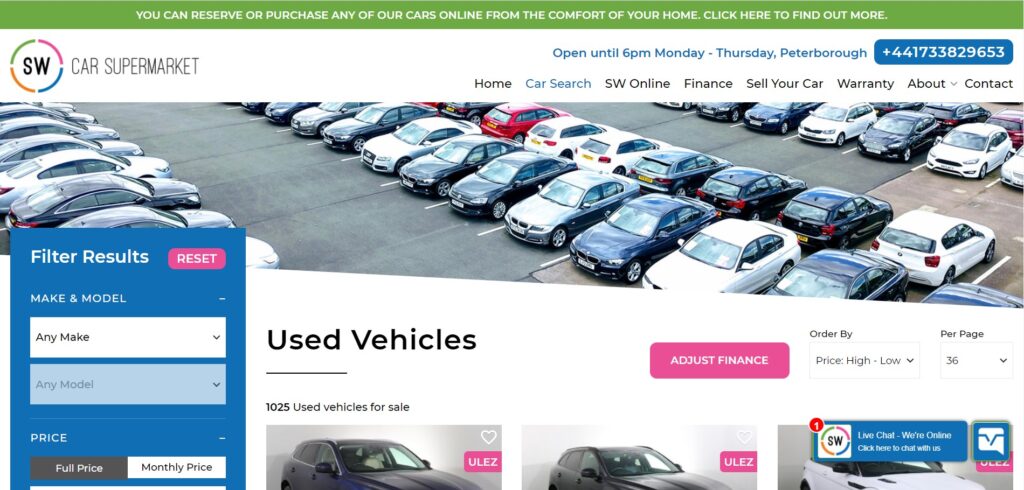 Based in Peterborough, SW supermarket again has both online and offline purchasing available. Like Cargiant too, they also only offer free delivery however within 30 miles of the premises, and anything further is chargeable, which can make things difficult when compared to more nationally focussed online car-buying sites. They also only offer a price match within this 30 mile radius rather than on a national level which is something most other online retailers offer and even within this 30 miles, they only compete with large retailers rather than independent sellers. That's in addition to a 7-day money-back guarantee for online purchases. They're still rated a solid 4 out of 5 on Trustpilot though, even despite a slightly negative influx of reviews in 2021, so it's advisable to research before you buy.
Motorpoint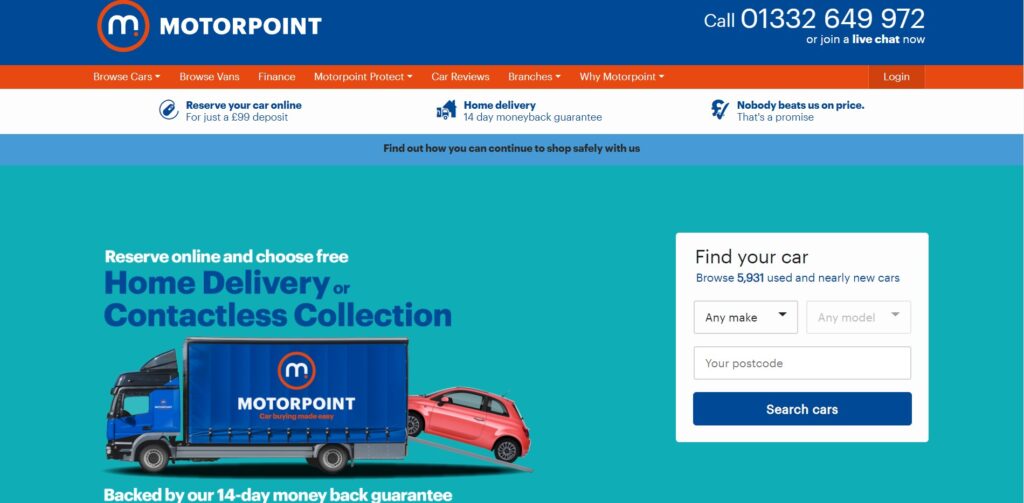 Motorpoint are one of the largest and often considered one of the best car sellers in the country, both for buying from their online site and in their many physical locations. They offer a price match like most online sellers, have a larger than average 14 day money back policy for online purchases, and they have a 4.4 rating on Trustpilot, seeing them much closer to the top of the leaderboard in terms of customer satisfaction. As for delivery for online purchases, it's free across all of mainland UK, and is delivered from their nearest branch, meaning if there are any issues, there's somewhere close by should you want physical interaction.
Availablecar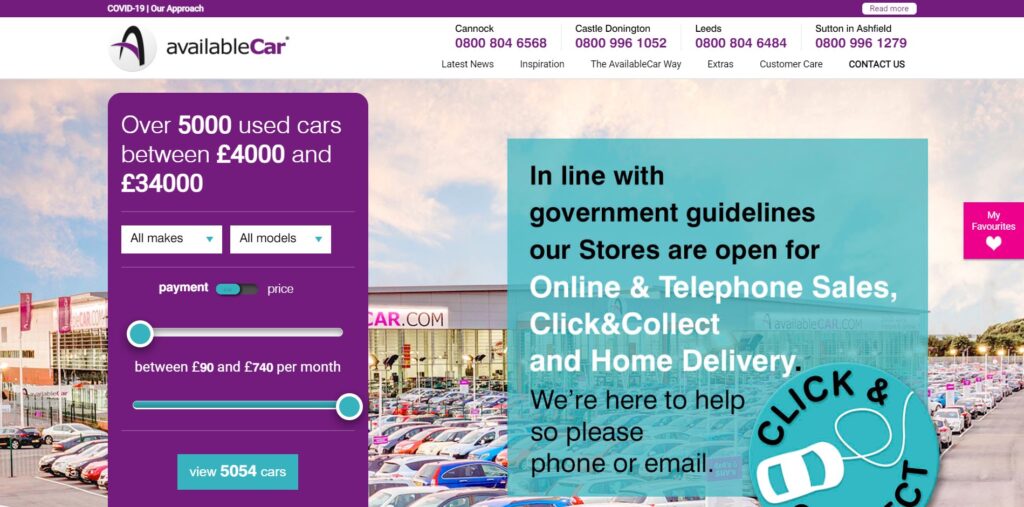 Availablecar are another titan on the list of the best used car buying sites in the UK, with 4 physical locations serving their online buying. The site does not sadly offer much information regarding their online buying process however, steering away from return policies, delivery procedures and other such things, and instead just lists their option for click and collect or home delivery. They still have a highly rated 4.4 star service on Trustpilot however, but more research is required. It's also worth noting in this sense that they're also one of the very few online car buying services on this list that don't offer a live chat feature on site. It's difficult to justify their online presence past the basic delivery option. What expectations used car buyer should have watch video review a about AvailableCar and what standard should apply to all used vehicles from any online car selling website.
Cazoo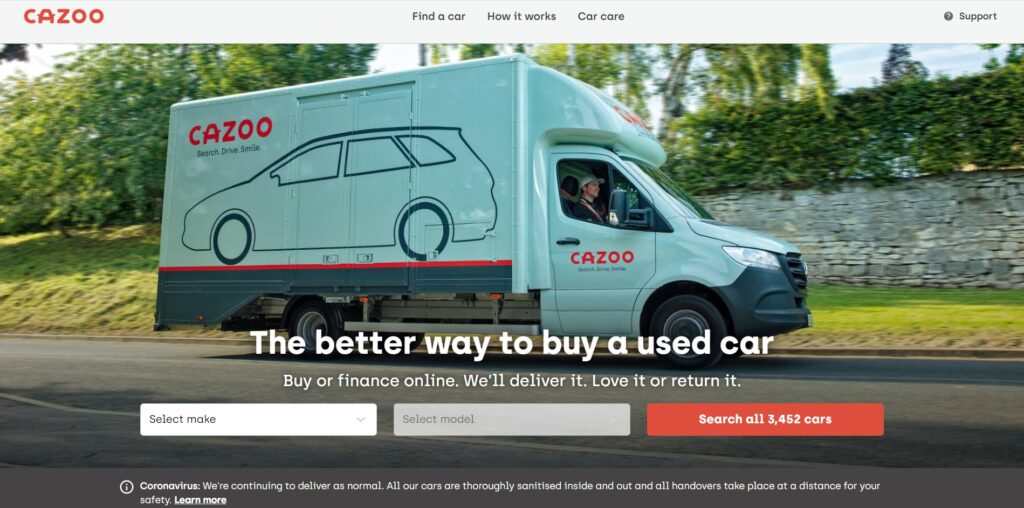 Cazoo is a much newer online focussed car buying service on the marketing, putting almost all of its efforts into the online process rather than using online services to help their car lot. They have a staggering 4.4 rating on Trustpilot, ranking them joint 1st in this list for customer satisfaction and complaint management. They have a huge amount of information about the service online as a result, meaning all of your questions can be answered quickly and easily. The quality of cars delivered seems to be high, with very few visible complaints online and specific mentions of the care and enthusiasm taken on the free delivery. The cars also have a 7 day test drive policy of 250 miles, meaning you can always return the car, free of charge and collected from your home if you're not a fan of it. On top of all of that, even despite being an online first car buying service, they still have collection centres too for that physical touch should you need it.
Cinch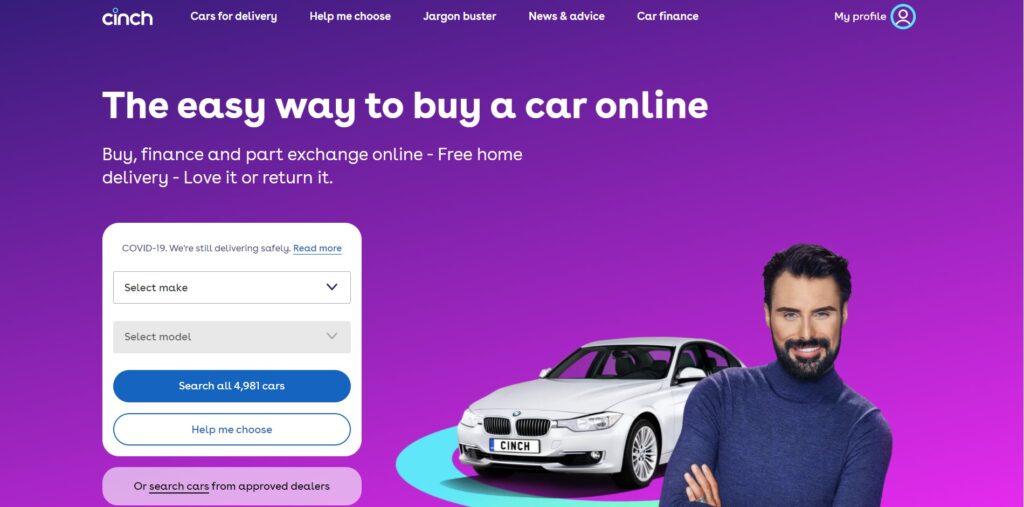 Cinch is even newer to the market than Cazoo in terms of their popularity and marketing efforts, but are still offering what looks like a great online car buying site and the process to go with it. They have the same Trustpilot rating as Cazoo do, placing them in joint 1st in this list, as well as having the free delivery to match. Cinch doesn't offer collection services with their vehicles but does still provide free collection with their vehicles. They also have a 14-day money-back policy for purchases which is the highest in the industry, just like Motorpoint, but this does require you to return the logbook yourself at your own expense. They make this clear on their site where a lot of other sellers don't, so it's hard to tell if this is a negative about them or something other services aren't divulging. In any case, they seem like a great option, even with the combination of their own vehicles and independent retailers.
Carzam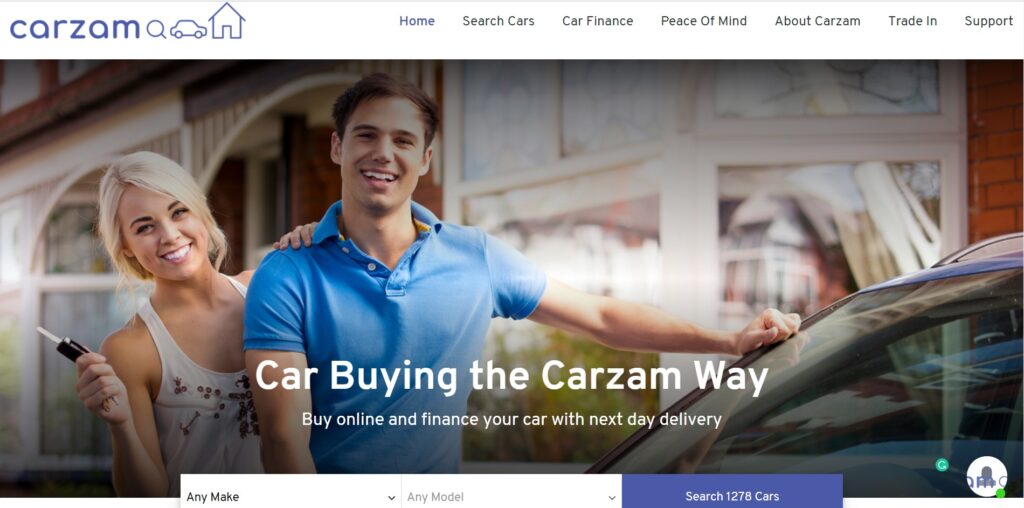 Although rated lower than other brands on Trustpilot with a still strong 4.2 rating, the Carzam online car buying service site can still be argued as one of the best. They have a 14 day returns policy just like Cinch, beating the more renowned Cazoo, and they have a few extra details too. They offer an app with their cars that enables a free 90 day warranty should anything go wrong with the vehicle (on top of any manufacturer warranties). That's as well as free delivery in the UK, which is great.
Carshop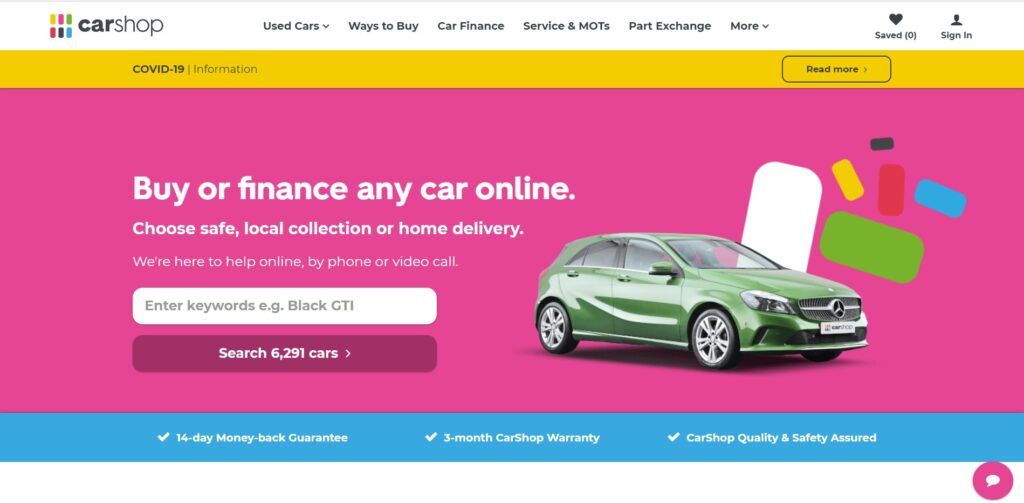 Finally, there's Carshop. Carshop when looking through their entire site seem to have a lot to offer, and have a selection of the best of everyone else on their list. They have a 4.5 score on Trustpilot, which is very solid, although some recent reviews have criticised the warranties offered after purchase which could indicate people are needing to use them. They do offer a complimentary 90 day warranty, however, and a 14 day return policy too. With 11 locations in the UK, the collection is free, but delivery across the UK sadly isn't, and nor are returns if you have the car collected rather than dropping it off.
Summary
Ultimately, the best online car buying site and the worst for that matter too all depends on what's important to you as a buyer. Services like Cazoo, Cinch and Carzam have the latest in online buying features, deliveries, collections and drop offs, as well as a small physical presence, but they aren't fully operational showrooms. The showrooms that do offer online services are location bound and tend to charge for these services outside of their central areas. It's all a toss-up depending on your location, what level of vehicle you need, and what's available at the time. With the right precautions like inspections to tell you exactly what you're getting into however you buy and returns guarantees to give you options, it's all down to you.