The 9 Best & Worst Online Car Buying Sites in 2021
Buying a car online is one of the most convenient ways to get on the road in the 21st century. Lets see dive in 9 Best & Worst Online Car Buying Sites, but with such a high-value purchase for something that's going to be used so thoroughly, there is always a level of healthy concern. Always start with simple mot check.
You have the convenience that comes with shopping online, the availability of anywhere in the UK, and everything else it has to offer too, and that's great. Wherever you buying vehicle from remember to carry out vehicle inspection to check if the vehicle is as described to minimise risk and protect your interest.
What isn't great, however, is when things don't go as planned. Online shopping as we all know too well can just as easily go badly as it can go well. That's why it's so important to look at the best online car buying sites in the automotive game at the moment, and what sets them apart from the crowd as well as keeping an eye on who might not be so well reviewed at the moment in the public eye too.
That's why CarExamer has produced this handy guide. We're looking at the customer experience for each of these highly used online car buying sites that could argue to be the best, taking into account the buying experience, returns, customer feedback, and their fees along the way all up to date for 2022/23. Learn how vehicle inspection protects your money.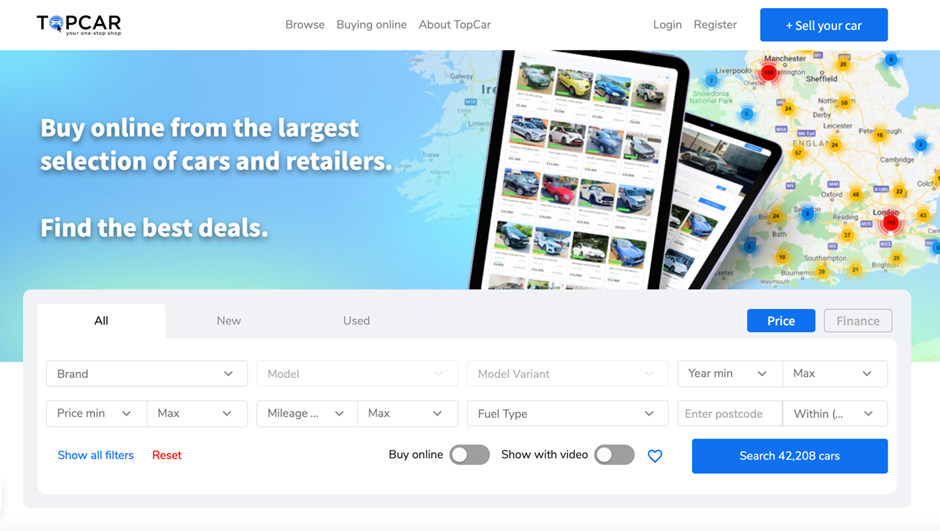 Founded in London in 2020, TopCar is the newest entrant to the online car buying space. Unlike the car retailers mentioned in this guide, TopCar is UK's first automotive e-commerce marketplace. This means that the platform allows users to buy used cars online from 1,000s of such car retailers around the country using its one-of-a-kind buying experience. Users looking to buy entirely online are able to find the best deals on the market without having to resort to the limited options of the few online car dealers out there. They have the freedom to choose based on their preferred retailer, their preferred location or simply by a car they have found on the site, with the option to arrange home delivery or collection from the seller. The associated costs are specific to each car dealer on the platform, just as with the perks that come with the purchase i.e. money-back guarantees, warranties and any multi-point inspections prior to sale. All of these aspects could be addressed through the communication channels provided directly on the platform. TopCar's unique online payment process also ensures secure transactions and confidence by safeguarding user's funds until successful vehicle handover. The platform currently has more than 40,000 cars on sale from over 1,500 car dealers which you can buy from, and its inventory is growing every day.
Carcraft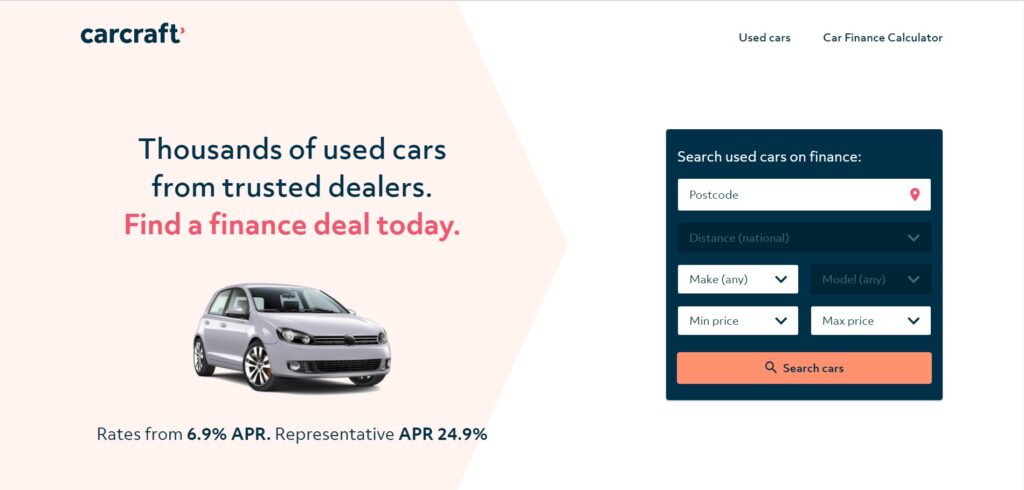 Carcraft is one of the older car retailers on the list that have moved away from their physical presence in recent years and into a completely online car selling service. Despite this long-standing reputation, however, their business model also changed too. They now work with independent sellers rather than selling their own vehicles, and as a result, their online reviews have taken a hit. Trustpilot sees them with a now average score of 1.8 / 5, showing some seriously negative feedback and a lack of responses from the business too. Carcraft appears to taking last position in customer satisfaction 7th place even after ranks of no longer trading Carzam. Make sure you inspect every single car you planning to purchase from this company make a booking here.
Cargiant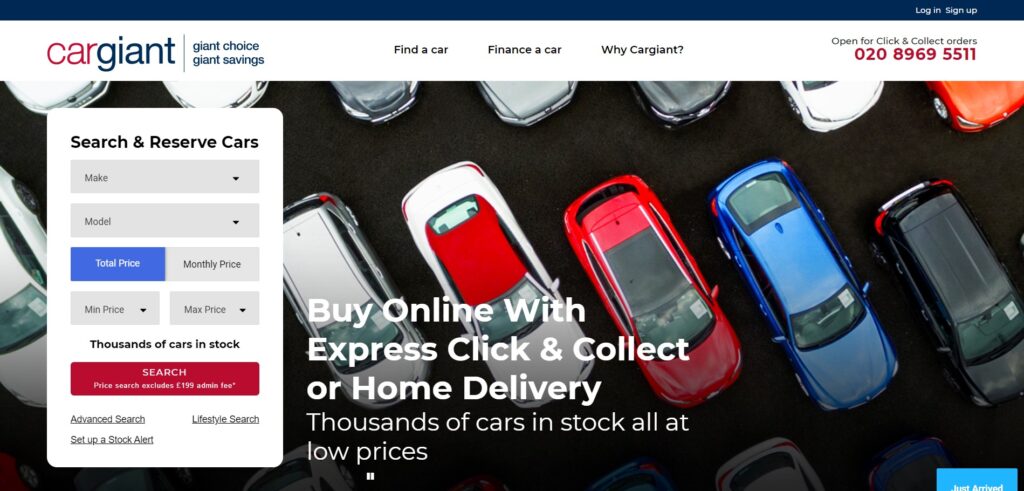 CarGiant is another physical car seller that has taken to the online car market, even despite having the largest car showroom in the world. Because of their central London-based location, however, unlike a lot of other online car selling services, they only offer free delivery within a 20-mile radius of the car lot. Further delivery is available, but will be undertaken by a 3rd party and for a fee. They do offer free collection too which is something that not all services can, but for people that live quite a way away, that might not be too helpful. Nevertheless, they have a solid 4.8 rating on Trustpilot from almost 10,000 reviewers and welcome 3rd party vehicle inspections too, just for extra clarity, makes them number one on the list in customer satisfaction scores. Make sure before collection vehicle is as described book vehicle inspection form specialists CarExamer.
Big Motoring World

Based in Peterborough Fengate, Peterborough Werrington, Snodland, Enfield, West Malling, Blue Bell Hill, Big Motoring World has offline purchasing available. They don't offer delivery options on website. They also only offer to move any car to a Big Motoring World store closest to you for maximum convenience. Reap the benefits of convenience and low prices at Big Motoring World they claim 95% of the vehicles are below market value! With over 4000 cars in stock across all branches, they claim you can find the car that's perfect for you. Plus get it same day drive away with a 90-day warranty as standard – so no need to wait around or worry about your purchase. And enjoy customer confidence thanks to our detailed 200 multi point inspection giving peace of mind without any awkward haggling or high mark ups – just great value! They're still rated a superb 4.7 out of 5 rated on Trustpilot though from 20.000 reviews, so it's advisable to inspect vehicles before you buy. Bigmotoring world takes 2nd place in customer satisfaction but don't have online purchasing available.
Motorpoint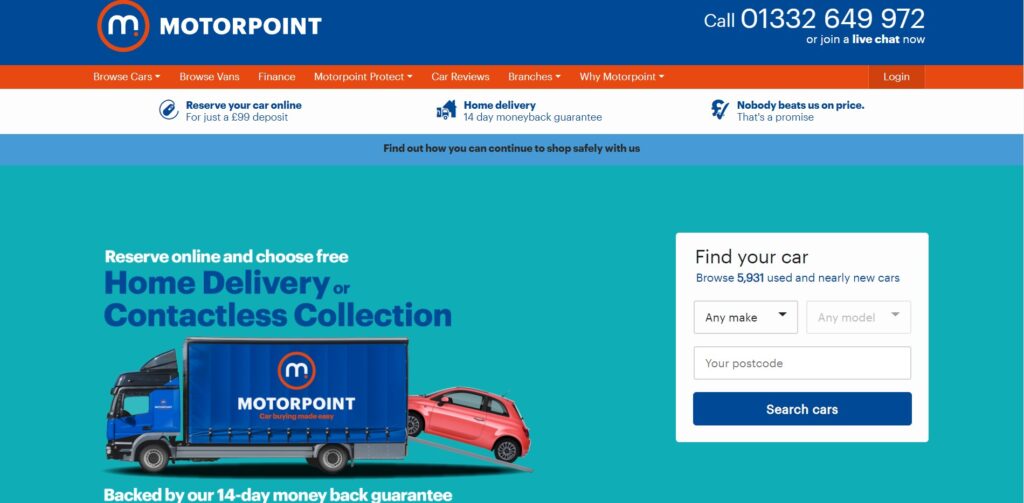 Motorpoint are one of the largest and often considered one of the best car sellers in the country, both for buying from their online site and in their many physical locations. They offer a price match like most online sellers, have a larger than average 14 day money back policy for online purchases, and they have a 4.4 rating on Trustpilot, seeing not much closer to the top of the leaderboard in terms of customer satisfaction, leaves them in 6th place. As for delivery for online purchases, it's free across all of mainland UK, and is delivered from their nearest branch, meaning if there are any issues, there's somewhere close by should you want physical interaction. Motorpoint shares 5th place with Availablecar in customer satisfaction scores according to Trustpilot scores.
Availablecar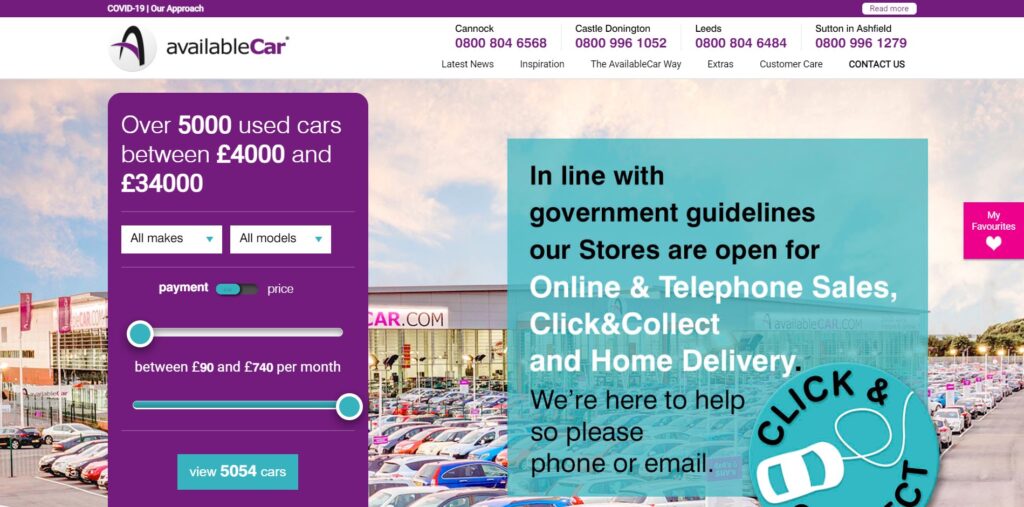 Availablecar are another titan on the list of the best used car buying sites in the UK, with 4 physical locations serving their online buying. The site does not sadly offer much information regarding their online buying process however, steering away from return policies, delivery procedures and other such things, and instead just lists their option for click and collect or home delivery. They still have a highly rated 4.4 star service on Trustpilot however, but more research is required. It's also worth noting in this sense that they're also one of the very few online car buying services on this list that don't offer a live chat feature on site. It's difficult to justify their online presence past the basic delivery option. What expectations used car buyer should have watch video review a about AvailableCar and what standard should apply to all used vehicles from any online car selling website. Availablecar takes 5th place in customer satisfaction score.
Cazoo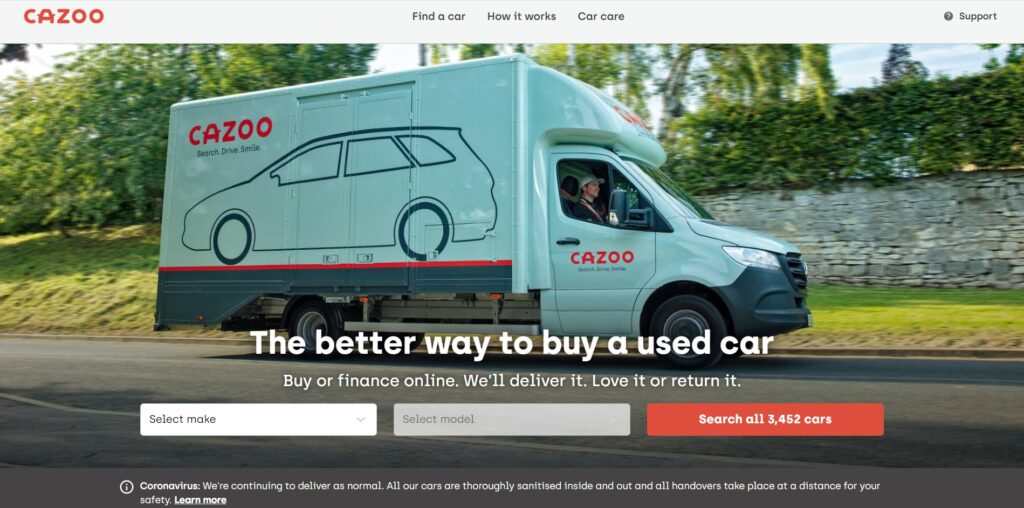 Cazoo is a much newer online focussed car buying service on the marketing, putting almost all of its efforts into the online process rather than using online services to help their car lot. They have a staggering 4.6 rating on Trustpilot, ranking them joint 4th place in this list for customer satisfaction and complaint management. They have a huge amount of information about the service online as a result, meaning all of your questions can be answered quickly and easily. The quality of cars delivered seems to be high, with very few visible complaints online and specific mentions of the care and enthusiasm taken on the free delivery. The cars also have a 7 day test drive policy of 250 miles, meaning you can always return the car, free of charge and collected from your home if you're not a fan of it. On top of all of that, even despite being an online first car buying service, they still have collection centres too for that physical touch should you need it.
Cinch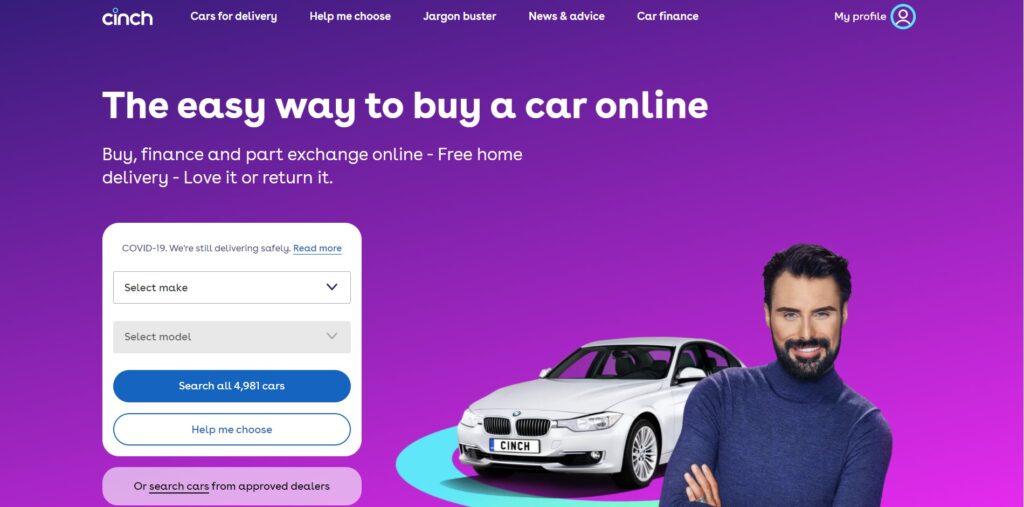 Cinch is even newer to the market than Cazoo in terms of their popularity and marketing efforts, but are still offering what looks like a great online car buying site and the process to go with it. They have the same Trustpilot rating as Cazoo do, placing them in joint in 4th in this list, as well as having the free delivery to match. Cinch doesn't offer collection services with their vehicles but does still provide free collection with their vehicles. They also have a 14-day money-back policy for purchases which is the highest in the industry, just like Motorpoint, but this does require you to return the logbook yourself at your own expense. They make this clear on their site where a lot of other sellers don't, so it's hard to tell if this is a negative about them or something other services aren't divulging. In any case, they seem like a great option, even with the combination of their own vehicles and independent retailers.
Carzam Permanently Closed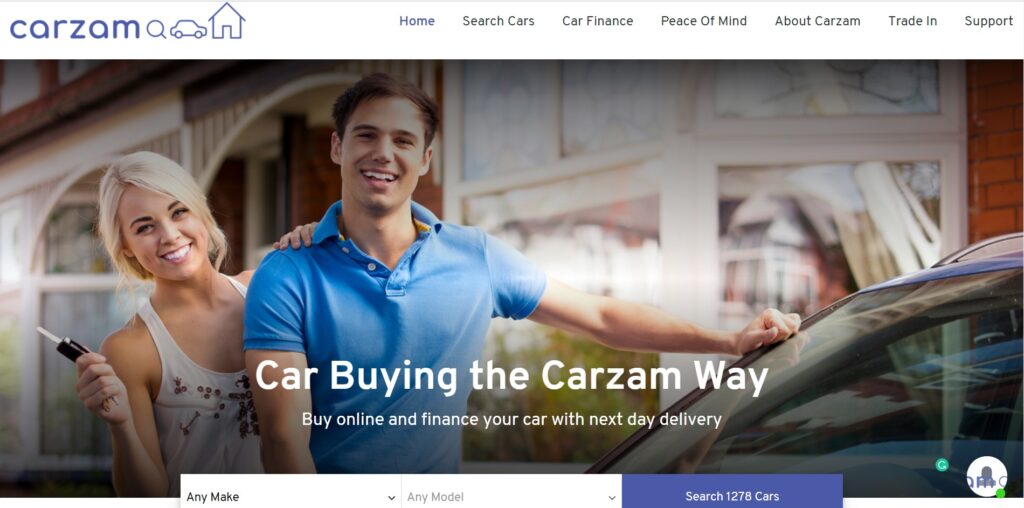 Although rated very poorly on Google reviews with only 3.5 rating, the Carzam online car buying service no longer operates. Carzam was founded in 2020 but went into voluntary receivership in June this year. Joint administrators have just published a statement of affairs. Creditors and claimants are listed in full, with the debt totalling nearly £19m. Co-founders Peter Waddell and John Bailey are owed more than £12m together.
Carshop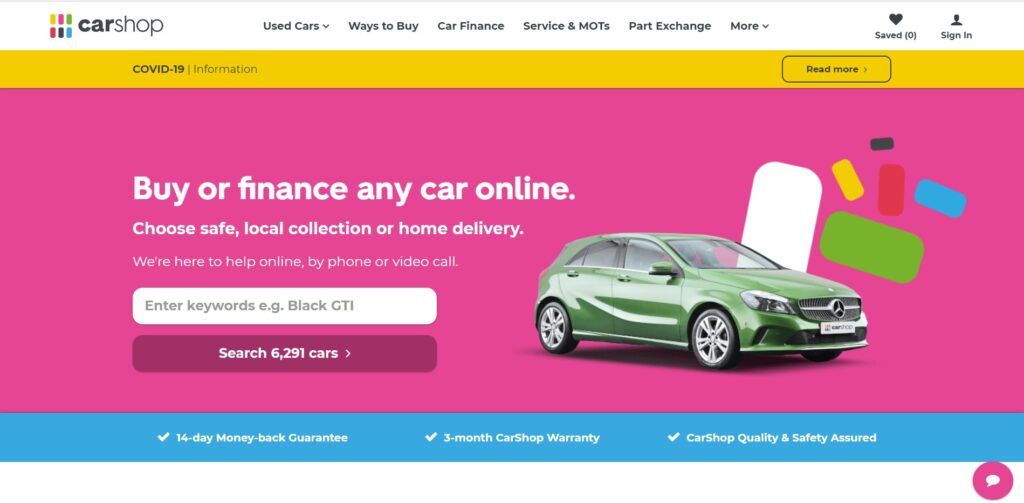 Carshop when looking through their entire site seem to have a lot to offer, and have a selection of the best of everyone else on their list. They have a 4.5 score on Trustpilot, which is very solid, which makes them in 5th place from this lot, although, some recent reviews have criticised the warranties offered after purchase which could indicate people are needing to use them. They do offer a complimentary 90 day warranty, however, and a 14 day return policy too. With 11 locations in the UK, the collection is free, but delivery across the UK sadly isn't, and nor are returns if you have the car collected rather than dropping it off.
Arnold Clark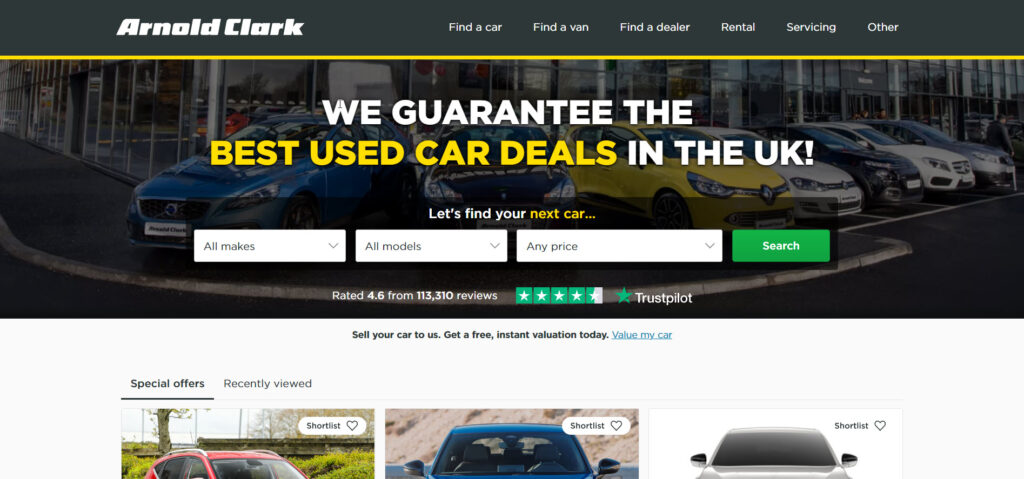 Finally, there's Arnold Clark. Arnold Clark would be biggest out of the above mentioned used car sellers in the uk. From history Sir John Arnold Clark was a Scottish billionaire businessman. Clark opened a showroom in Glasgow in 1954 and found some success selling cars. Arnold Clark have 28000 cars in stock and choice from 200 locations. They guarantee the UK's best used car deals – and if you find a better deal elsewhere on the same car, they will give you back double the difference – at least they claim this on their website how this works practically is not known to us. Arnold Clark offers low rate finance and no hidden fees, the price you see is the price you pay. You can buy your next used car online safely and with Click & Collect and home delivery options available. Most flexible warranty offered warranty period is for 60 days from the date of delivery or 4,000 miles, whichever comes first. All of this in our opinion offers biggest flexibility and choices from all of used car sellers mentioned combine. They have a staggering 122k reviews and 4.6 rating on Trustpilot, ranking them joint in 4th place in this list for customer satisfaction and complaint management all together with Cinch and Cazoo.
Summary
Ultimately, the best online car buying site and the worst for that matter too all depends on what's important to you as a buyer. Services like Cazoo, Cinch and Carzam have the latest in online buying features, deliveries, collections and drop offs, as well as a small physical presence, but they aren't fully operational showrooms. The showrooms that do offer online services are location bound and tend to charge for these services outside of their central areas. It's all a toss-up depending on your location, what level of vehicle you need, and what's available at the time. With the right precautions like inspections to tell you exactly what you're getting into however you buy and returns guarantees to give you options, it's all down to you.
Buying a used VW. Buying used vauxhall, BMW, Jaguar, Ford, Volvo, Range rover, Bentley, Aston Martin, Porsche, Ferrari.