A Guide to the ULEZ (2022 Update)
Update. ULEZ Expansion 2023 To help improve air quality for everyone's health, the Ultra Low Emission Zone (ULEZ) is expanding from 29 August 2023 across all London boroughs.
Scrappage scheme
From 30 January 2023, Londoners receiving certain disability and means-tested benefits can apply to our car and motorcycle scrappage scheme and receive a grant payment, or a grant payment plus one or two Annual Bus & Tram passes. A separate van and minibus scrappage scheme will also be available for sole traders, micro-businesses (10 or fewer employees) and charities.
Applicants will be able to choose one of the following options:
Scrap a car – £2,000
Scrap motorcycle – £1,000
Scrap a wheelchair accessible vehicle – £5,000
Retrofit a wheelchair accessible vehicle – £5,000
ULEZ van and minibus scrappage scheme: Applicants will be able to scrap a van (£5,000 grant) or a minibus (£7,000 grant), retrofit certain vans and minibuses (£5,000 grant) or scrap and replace a van or minibus with a fully electric vehicle (£7,500 or £9,500 respectively)
Follow TFL website for dept of information.
The ULEZ, or Ultra Low Emission Zone, is an area of London in which only cars of a high enough environmental efficiency are able to drive without facing a charge. In 2022, this ULEZ is expanding. As of October 25th 2021, the ULEZ has outgrown its original central London location, now spanning to the boundaries of the North and South Circular Roads. That covers over 140 square miles, which is a huge increase on the original 8 miles. You can check if your car meets the requirements for free, here.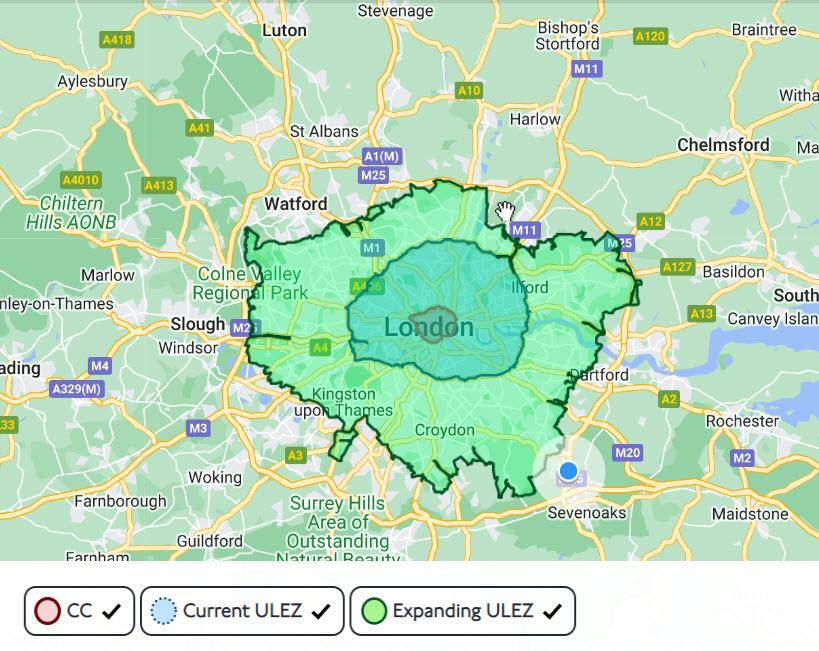 How Much is The ULEZ? Are There Any Changes to the ULEZ Cost?
The ULEZ charge is the same as it has been since its introduction. That means £12.50 per day for any car, van or motorbike that doesn't meet the requirements, and £100 for any lorry or bus. There is no exception to this charge like there is with the congestion charge either, with the only exception being Christmas day.
This charge does cover a whole day, however, so you can drive from Midnight to 11:59 pm all with one payment. Otherwise, the daily charge still stands. You can pay for any day up to 90 days in advance, and have up to 3 days to pay if no prior arrangement is made before a fine is issued. It is a sizable fine too, at £160 for smaller vehicles and up to £1000 for lorries and buses.
What has changed in relation to a payment for the ULEZ in 2022 however is that the residents' allowance has now ended. Previously, those living within the ULEZ were exempt from the charge, however, as of October 24th, this is no longer the case. There is no kind of exemption in any way and doesn't look like it is set to change either.
Are There Changes to The ULEZ Requirements?
There are no changes to the ULEZ requirements in 2022. The standards remain the same, which are a Euro 4 Petrol engine (The standard for most vehicles post-2005), or a Euro 6 Diesel (the standard for most Diesel vehicles post 2015).
Vehicles can be retrofitted to meet these engine/emissions criteria too, which has been incentivised for a few meeting certain requirements in London, but largely it's more recommended to simply upgrade if regular use is expected.
The expansion is expected to affect 1 in 5 drivers in the area, which is between 100,000 and 150,000 vehicles. A huge number more than the current. It's always possible to check if your vehicle meets the ULEZ requirements before you travel however with services like CarExamer or those provided by TFL themselves.
How To Pay the ULEZ Charge
To pay the ULEZ charge, you have multiple options. You are able to pay in advance, as we mentioned above, but you can also pay via the app or via the website of TFL. Both of these ways will allow you to pay your fees.
In addition to this, you're also able to pay any 2022 ULEZ charges using the Autopay features available in the app or on the website as well. This is where there is a monthly charge made automatically for the charges you argue, which is ideal for recurring trips that do not meet the ULEZ requirements, as well as any other charges you may face when driving in London.
All of the money paid for the ULEZ is intended to be returned to the transportation system in the area. That includes roads, as well as public transport, cycling facilities, and of course the Tube too, all of which is intended to further help to combat the poor air quality that is now a big problem area of the city.
Conclusion
The ULEZ isn't just here to stay, but it is actually likely to grow, spread to more cities across the UK, and even become stricter in what cars are allowed and where too. This is all in line with the UK aiming to become carbon neutral over the next few decades and is something that almost all of us will end up experiencing.
As always, if you do choose to buy a car both now and in the future to be a better fit for the ULEZ, always exercise caution. Cars are highly complex, and even with the most advanced engines on the market, there is always room for problems that will cost you even more to fix than paying the ULEZ charge. Pre purchase car inspections are a great way to go about it, but whatever you choose, be careful.